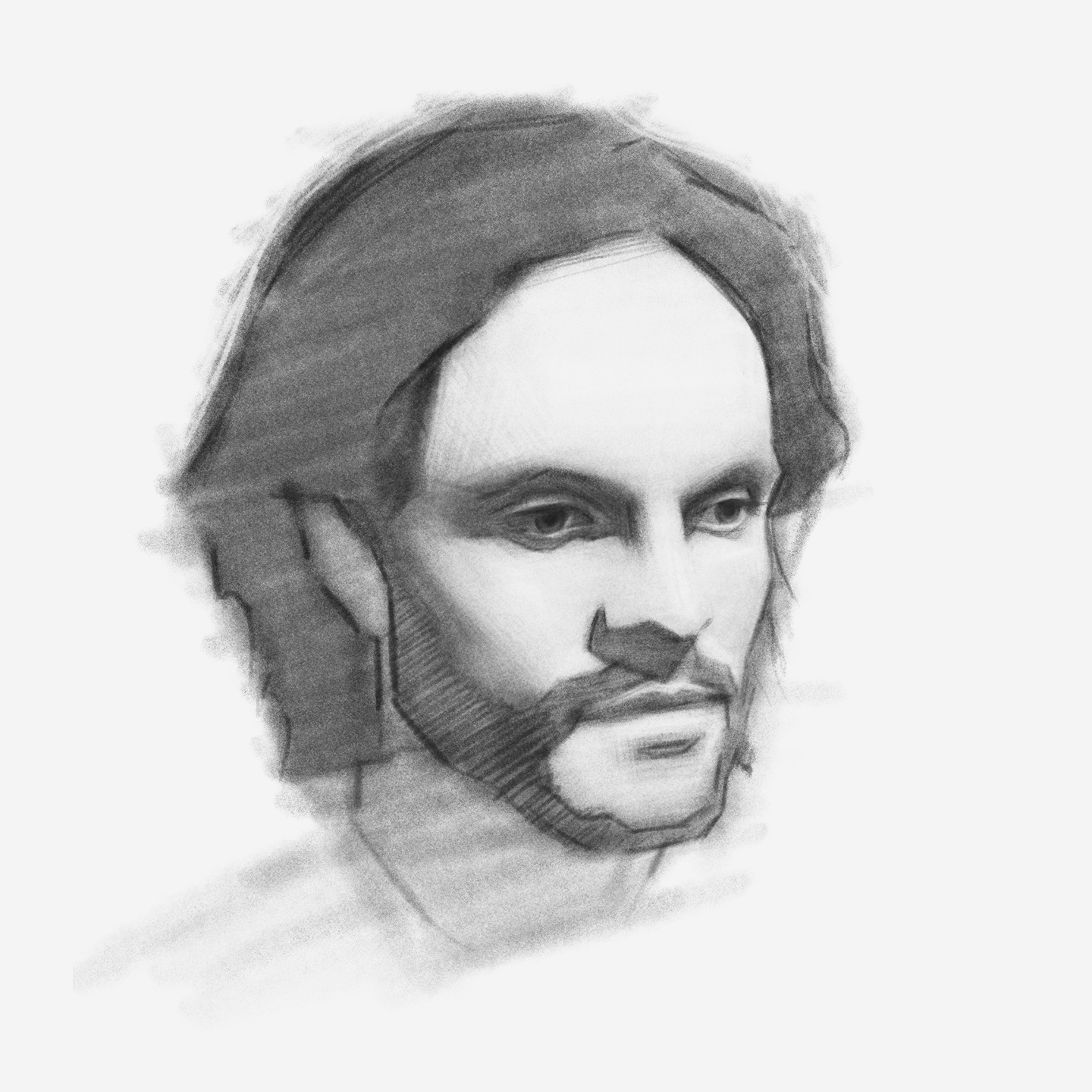 Quick portrait sketching is a great way to practice portrait drawing and improve your skills. This workshop focuses on creating well structured portrait sketches, using simple shapes and limited tones. This sort of basic block-in forms the foundation of more detailed portrait drawings.
What's included:
A place on the live online workshop.
Access to a recording of the session afterwards.
Reference image and materials list.
This session is part of a series of four workshops that will teach you everything you need to know about drawing portraits. You can take this workshop individually or you can sign up for the complete series and receive a 10% discount off the bundle. 
Find out more about the Portrait Drawing Bundle
What you'll learn
This workshop will familiarise you with the early stages of creating a portrait drawing. You will work from three different references for about 40 minutes each, using limited tones and focusing on creating a solid initial block-in. 
How this will help you
The early stages of any drawing are the

most important

part of the process. 

If you can create an

accurate and well structured block-in

right at the beginning, you will find the later stages much

easier and more enjoyable

.
How we will meet
This live class will take place online via Zoom, all you will need to do is download the program, and login on the day using the details provided once you've signed up.
All students will be able to watch, work alongside, and ask questions throughout the session, but if you want direct feedback about your work, I recommend signing up for a Full Workshop Pass as this will allow you to take advantage of private support and critiques from me during the live session.
You can download Zoom for your computer, phone or tablet here:
Reference images will be provided that you can download before the class starts. I recommend that you either print them off beforehand or have a second screen set up, so that you can watch my demonstration at the same time as working on your own artwork.
Accessing recordings afterwards
I will be recording the entire session (including all questions and answers), so you will be able to rewatch it afterwards. This is a great way to revise the topics covered or rewatch any specific parts of the process that you had trouble with during the live session.
You will have lifetime access to this recording via your Scumble & Glaze account.
There is usually a delay of up to a week before the recording is available on the website (as I have to spend a bit of time editing and uploading the video). You will receive an email notification as soon as it's ready.
What you will need for the class
You can read and download the recommended materials list for the class in the curriculum list below (purchase links are included).
If you sign up for a Full Workshop Pass you will need a way to share your work with me during the session. You can either use a webcam or you can send images to me via email or Facebook.
Course Contents
Available in days

days after you enroll

Workshop Details